Welcome to the second edition of #ContentOnContent, where I share helpful content…about content.
I love a good meta name.
If you missed the first one, you can catch it here.
(And a note before we get into the content on content…later this month I'll be raising the price of the Content Remix Planner from $40 to $75. I'll tell you more about the deadline and why I'm doing this in a later email, but wanted to give you a heads up right away. 😀)
---
How Headspace uses content clusters
I feel like content clusters and pillars are the kind of thing content marketers talk about so much, but for every 5 mentions of them, there's only 1 good example.
But Headspace? Headspace is a great one.
This post from Nicolas Forero looks at how Headspace has designed their content clusters and worked them into the rest of their website and content.
Seriously, I already subscribe to another app that has meditations included, so I've never needed Headspace, but now I want it anyway. I just want them to have my money because content this good deserves it. 🤓
Headspace has truly built their whole website around their content cluster strategy, with them integrated seamlessly into everything from the homepage all the way at the top to individual blog posts at the bottom. And Nicolas breaks down how strategic all of it is.
---
Writing products with personality
Two nerdy niches within marketing that I love: brand voice and microcopy (although the article I'm about to share has a great argument for why the latter shouldn't be called that).
This Medium article combines them both by showing how small details like button copy, loading screens, and product feature names can incorporate personality that builds your brand.
It also shows some great ways to build content into your product using microcopy. I talk to a lot of businesses who have so much content that can serve current customers but they make it ridiculously difficult for them to find. This is the opposite of that – there's nothing easier than building that content into your product.
---
Engineering as marketing
This one's not at all new, but I've been revisiting the concept and therefore this post on engineering as marketing that is kinda a classic, in my opinion.
I've always loved blurring the lines between content and product, it's what made me choose the business model I did for Work Brighter (my other business).
I'm gearing up to launch the first free mobile web app for that business, which I built last year using no-code tools.
It's got me thinking about how no-code engineering as marketing is a thing now too, and how awesome that is. I used to think I would need to grow a company to the point I could hire developers before I could start building tools. Or I'd need to learn more advanced coding skills myself. And neither of those particularly interested me.
But now I can build a mobile app in a few weeks?! Like what?!
99% of the time, when I say, "what is this world we're living in?" I mean it in a really sad, nihilistic way. Like Michael on that one episode of The Good Place: Baby's First Existential Crisis (okay that's not the real episode title, but if you've seen the show, I know you immediately knew which one I'm talking about).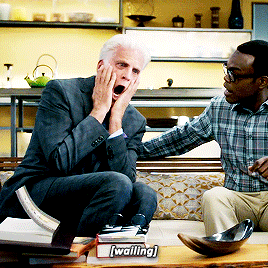 But this time I do not: what is this world we're living in?!
---
And ICYMI from me…
Here's some of my own recent content on content: