Let's talk about content marketing and Cher.
Yes, Cher.
Because love her or hate her (I love her. I love her so much.), Cher is brilliant at content strategy and repurposing content, and we need to talk about it.
So today we're covering the main content repurposing strategy Cher has leaned into, that we should all be stealing as marketers.
Maximalist vs. Minimalist Content Marketing
Cher is so good at content strategy for the same reason I am: her personality is maximalist, so her marketing isn't. 💁🏻‍♀️
What I mean is, when she does create content, it's so maximalist and powerful and packs such a punch, that she doesn't need do it often.
It's maximalist, more cowbell content marketing versus minimalist, Cher-style content marketing.
Instead of "more cowbell content marketing," where you churn out content constantly because for every business problem, "the prescription is more content."
And one reason I love looking at pop culture and entertainment for content creation and repurposing strategy is because they have to be masters of it. In entertainment, content IS the product.
So when someone creates it, they're sure to milk it for all it's worth.
That's where a greatest hits funnel comes in.
The Value of Your Greatest Hits
One thing that Cher is personally the freaking queen of, is working her greatest hits.
She is so good at this, especially in this stage of her career.
She's released multiple greatest hits albums, whether they were officially called that or were just a compilation of well, her greatest hits.
Not only that, she's gone on, like, half a dozen farewell tours performing those same favorite, greatest hits.
And then released and sold video recordings and albums of those tours!
A TRUE legend, she's even released a whole album and then launched a tour around SOMEONE ELSE'S greatest hits (her Abba/Mamma Mia stuff).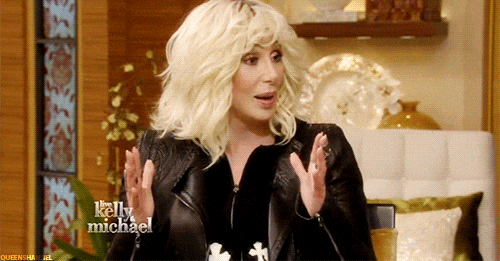 Looking at her discography, I count 22 releases that could be categorized as greatest hits!
Twenty-two! And that doesn't even include her work under Sonny & Cher!
And those products were all created based on content that ALREADY existed. Not just content that already existed, but the BEST of her content that already existed.
The tried, true, and proven stuff that Cher KNOWS will sell.
That's the genius of leveraging your greatest hits content in new ways.
Your greatest hits content is your most popular, highest converting content. So why wouldn't you milk it for all it's worth?
Especially in your email marketing, which is one of the most important nurturing channels and consistently the marketing strategy with the highest ROI! 💰
Why You Need a Greatest Hits Funnel
Since these greatest hits are so powerful, you should be making sure that every single new lead, subscriber, prospect, whatever you want to call them…is seeing your best and highest converting content.
Even if your highest converting, best performing blog post was published two years ago, you want any new prospect considering you today to see it.
This is where a greatest hits funnel — an automated email sequence highlighting your best and most important content — comes in.
Since it's based on content you've already created, it's super quick and simple to set up.
You can use your greatest hits funnel as a:
Nurture sequence
Sales sequence
Re-engagement sequence
Pretty much any sequence you need
I've said before that a welcome sequence is the first email automation marketers should set up, but it's tied with a greatest hits funnel.
Your greatest hits funnel could BE a welcome sequence, or you can create a greatest hits funnel that serves another need before moving onto your welcome sequence.
For example, for Work Brighter, I've been writing blog posts about productivity and balance for years longer than Work Brighter has technically been a business with products to sell and a sales funnel to sell with.
Same goes with curating the Work Brighter Weekly – there's over 200 editions of the newsletter new subscribers have missed.
And that content's not just interesting and fun (although it is both!).
It addresses important mindset shifts and information I know people need before they'll become a customer.
So when someone first signs up for the newsletter, I send them some of those old blog posts or newsletters.
Because like I talk about in my video on Julie Andrews-style welcome sequences, those are the kind of content you want people using for "getting to know you, getting to know all about you."
Ways to Structure Your Greatest Hits Funnel
There are multiple ways to go about your greatest hits funnel.
The first, and easiest, way is to have a few emails that curate links to your best content. You could have one email of your best blog posts, another of your best emails, another of your best videos, etc.
Another option – and this is what I do with Work Brighter – is to have a welcome sequence that weaves emails about your greatest hits in between pitches for your offer.
This is a great way to put together a sales funnel without creating a ton of new content and copy.
Because who said sales funnels need to be overwhelming?!
And finally, you can create a dedicated sequence of greatest hits to put between other funnels, like your welcome sequence and sales funnel. Or after your sales funnel to keep people engaged between promos or to break up more formal newsletters.
Hell, you can even use your greatest hits funnel to REPLACE your regular newsletters.
I used to have a romance book review blog, and when I first stopped writing new posts, I still had people joining my email list to follow posts. So I put together the book reviews for my 50 favorite books from my time reviewing. That way, for more than a year after I stopped reviewing, people were still going back to my old reviews, and buying things from them.
How to Make It Even Easier
I have good news if you've already emailed your list about your greatest hits content in the past: you can repurpose THAT too.
Just update and revise that email copy and move it into your greatest hits funnel.
You've already created your best content.
Instead of just trying to recreate it, it's time to compile your greatest hits album that can make you more money and more fame on autopilot.