Heyo! Want to help educate and entertain a bunch of sassy, super talented bosses?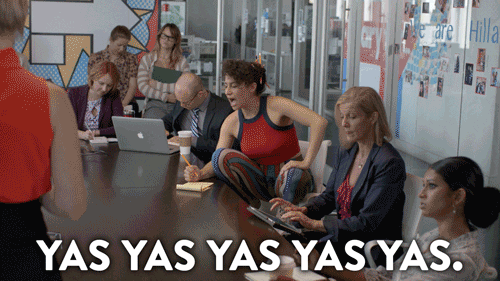 Yasss! Because I want you too. Guest posts have arrived at BrittanyBerger.com, and I'm looking for content. Read on, my friends, for all the information you'll need to share your business smarts here. 🙌
What to write about
I primarily write about productivity and content marketing, but my unicorn readers have much wider interests. They're steering their biz (mostly) on their own, and they need help with pretty much every aspect of it.
Productivity/automation
Content creation and strategy
Marketing and PR
Your own personal "aha" moments
Solopreneurship "lifehacks" (but ugh I hate that word)
Basically, the theme is "how to do __________" better. Around here, productivity doesn't just mean time management…it's ALL the stuff that solopreneurs need to do their jobs **faster or more effectively**.
The women that come here have the basics of online business down, and need help taking things to the next level.
So "how to market your biz on social media" would be a little basic but "new ways to market your biz on social media" or "advanced ways…" or "faster ways…" would help them power-up the skills they already have! 🤘
Rules to play the game
I hate word count requirements – but I love really in-depth content. 😍 So let me put it this way: most posts here are around 1,500-2,000 words, but that's not a hard rule. It depends on the topic. What I want from guest bloggers is details, not fluff. 🙂
Write conversationally. This blog/its author is like Central Perk – suuuper casual, quirky, and stuck in the 90s. 💁🏻Your post can – nay, should! – be the same way. Contractions are better than sounding like a robot, pop culture references are welcome, and puns and dad jokes are tolerated and encouraged.
Chunkify your content. Use subheadings, lists, etc. to add structure to your post and make it super skimmable and easy to read. Here are some awesome readability tips you can use as a guide. 😀
It's cool to briefly mention your own products or services, but only where it makes sense in context – no big pitches or promoting affiliate links, please.
It's fine to link to your own (pitch-free) content, but not JUST your own content. Please also link to other trustworthy sites and any related content from here, too. #linklove
That's pretty much it. I try to be pretty chill with editing, but I will proof your post – maybe add a little formatting or change a few words in a sentence. If anything else is needed, I'll let you know. 🙂
To apply, fill out the form below: