Just Checking In is a feature on the blog where I'll pop in to share what I've been working on and the progress I'm making towards my goals. Accountability, baby!
Well, I did it.
I launched a course.
What the fuck?!
If you've been following along, this was about 2 years in the making. Kind of. A course of some kind was…
So this was, by default, one of the best months ever of my biz. I also saw a Broadway show, went to the beach, and found out I'm going to Paris and Marrakesh in the fall! So yeah, a good month all around. 😉
In August, I:
Ran a giveaway
To start getting serious about list building before my course launch, I gave away one slot in my new course, along with a bunch of other products (over $600 worth!) for solopreneurs to improve their productivity.
My goal was to get 250 people to enter the giveaway, including people already on my list (since I was building a separate list of warm leads for the course). I didn't quite reach that, ending up at 175, but I still think it was really successful!
I also did something different – a lot of bloggers advocate sending a follow-up email to the losers pitching their course. I did that, but also sent separate emails promoting all the other prize products, using affiliate links when I had one. That brought in about $200 that I'm counting as part of my overall launch income, which definitely makes up for not reaching the subscriber goal!
Became an Inbound.org Community Catalyst
I spend an insane amount of time on Inbound.org, between content marketing for my day job and freelance clients, plus just talking to my friends there. They started a new program where users help the community team start and grow conversations there, and I'm so excited to take part!
Lined up new freelancing clients
Now that the BYOVA launch is winding down and I don't need to devote all my nights and weekends to it anymore, I started picking up more freelancing work. I've been writing more about marketing and less about general business, which I love. I've also been doing more writing and less editing, which I also love!
(P.S. – I'm still looking for more work. Need a freelance content marketer? Let's work together!)
LAUNCHED MY MOTHERFUCKIN COURSE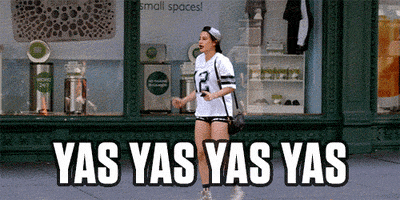 That's pretty much all I have to say about that so far. Build Your Own VA has launched. It's still launching. I'm on track to meet my launch goals, but I have a LOT of feelings so let's just not talk about them yet, kay? 😛
In September, I'll:
Meet my launch goals
Right now, I'm thinking it's gonna happen. I'm ahead of my timeline right now, so sales could slow down and I'd still be good. I also have several more emails and blog posts lined up, and even more ideas for emails and blog posts to write and publish. 🙂
Wrap up launch content
For the first round of BYOVA students, I'm dripping the content out one week at a time. This helps me launch and create content at the same time, and gives students the opportunity to give feedback that I can apply to future modules. So far they've been heard and I've been able to make changes on-the-fly to make them happier!
But by the end of September, I'll have finished writing all course and sales content: the modules themselves, the launch funnel, related blog posts, etc. Woohoo!
"Productize" my freelance services
I'm feeling super inspired after watching One Woman Shop's Be Booked Out webinar from Hallie Gray! Right now, I just have a general "hire me" page about the content marketing services I offer, but I don't have specific plans or packages. I've started calling this "productizing my services," which I like. 😛
I'm planning on building out separate pages for specific packages I want to offer. I need to choose a few things to focus on – right now I'm thinking blog post writing, content upgrade creation, and influencer marketing/outreach. (If you need help in these areas specifically, you can sign up for the wait list!)
Everything Else:
What I wrote:
What I read:
What I watched:
Ally McBeal – I vaguely remembered watching a few episodes of this show with my parents way back when, and found it buried in my years-old Netflix queue a few weeks ago. Commence binge watch! Guys, this show is amazing and sooo relevant for being 20 years old. Ally's quarter-life crisis is real, y'all.
Stranger Things – Yep, I'm on that bandwagon! Watching it slowly with the boyfriend though, since he likes weird things like exercise and socializing and going outside, so we only watch an episode or two per night. #ThrowingShadeAndSideEye…
What I danced:
So bummed about my poor choice in where to stand (that dark corner in the back), but here's the one dance class I made it to this month on top of my health stuff and course launch! (PS – HAPPY BEYDAY!)
Also as per usual, mind throwing me a vote for their Shame Free Superstar Awards this fall? I'm up for social media superstar!
So what have you been up to?