Once you start repurposing content, you're not allowed to say "I have nothing to post on social media."
It's always been a lie anyways.
Someone saying that is almost as offensive to me as Ross telling Rachel they were on a break (that doesn't make his behavior okay!).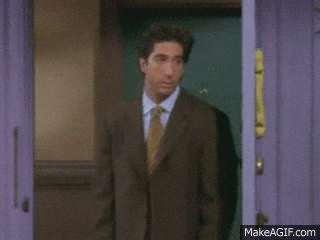 So today we're talking about how you can repurpose content for social media and keep your content calendar full.
And we're gonna talk repurposing in both directions. Because while it's common to repurpose long-form evergreen content into timely social posts, it's less common to repurpose the other way around.
Less common, but just as smart.
Let's get to it.
Repurposing Evergreen Content for Social Media
It's pretty straightforward to repurpose in-depth content like from your blog, email list, YouTube channel, or PR coverage into a social media post.
Plus, I have a ton of other posts to help you out with it:
You have a few different ways to approach things:
You can republish the content in full as a social media post
You can break it up and create a series of social media posts, each featuring an excerpt of the in-depth content
You can reformat a piece of content into a more social-friendly medium
And given how in-depth other popular content formats are compared to social media, you can easily take something like one blog post and turn it into like 10 or 15 pieces of social media content.
Repurposing Social Media Content for Other Channels
Now I want to focus on repurposing social media content to use elsewhere.
This isn't talked about as much but is so, so important. Especially when you're creating lots of native content for social media.
If you're doing like these great Facebook Lives that get tons of engagement at the time, or writing thoughtful, in-depth Instagram captions or Facebook group posts, you need to make it evergreen.
Like 99% of the time, social media content is the complete OPPOSITE of evergreen content.
And I'm all about evergreen content.
So to me, that content shouldn't just stay on social media, where that amazing content won't be seen for very long. You need to find out how to make it last longer, and that's repurposing.
But here's the thing:
Most social media content is way shorter and snappier than content on other channels you might be repurposing it for. So this part takes a little bit of remixing and magic.
Here are some tricks to start with:
Curate your best social content
First, you can curate a bunch of your best performing social media posts into a round-up email or listicle blog post. For example, if you share a lot of graphic design advice on Instagram, you can pick out 10 or 15 that all follow a certain theme. Then write an introduction, and publish.
Expand popular ideas from social
Second, you can take a short post and just expand on that same idea until you have a new piece of content for another channel. For example, when I had a really popular Instagram post about how I write two outlines for every piece of content, I expanded on that into this huge content creation guide.
Recycle social media content
And lastly, you can always just reuse your social media content again on the same channel. Like I said, that stuff's not evergreen.
Once its original reach has died, in addition to repurposing it for new channels, you can also throw it back into your content calendar for that social platform at that point. Either manually, or using an automation tool like CoSchedule ReQueue or MeedEdgar. They let you recycle social media content like that, so that they're being posted something like once a month instead of just once ever.
Social Media Repurposing is a Two-Way Street
Before I let you go, I want you to please, please remember that repurposing social media content is a two-way street.
In addition to repurposing content from other places for social media, make sure you're using your social media content elsewhere somewhere with a longer lifespan. Somewhere where it can really get seen somewhere where it can be evergreen.
Need help?
And if you want some help getting started, you can download my free content repurposing planning worksheet. It'll help you lay out step by step all of the awesome new things that you can create from your old stale content.