Important question for you: could Cher save your content strategy? 🤔
According to my numbers so far, there's about a 37% chance of it.
Those stats are from the people who have already taken the quiz on my new website.
You read that right:
New website!
Quiz!
With a Cher result!
Last week I finished updating the content and design on the core pages of my Internet House.
Even though there might be a few low-traffic stragglers left to fix, and more changes I want to make (a website update is NEVER truly over), I can tell that it's time to call it "done" for now.
How can I tell?
Because how how flipping excited I am with it.
Especially with this quiz that will tell you which pop star can save your content strategy.
This quiz…it distills the strongest parts of my work, my interests, AND my personality, all in one.
And in a way that I figured out how to make legit helpful for you?!
Honestly, sometimes I amaze myself.
*pats self on back*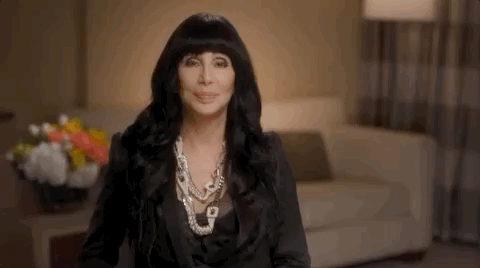 I know it's popular to have these personality quizzes be pop culture-themed, but I really need you to know that this one?
The pop culture tie-in is SO much more than just a quiz theme.
Like, yes, it's the theme of the quiz.
But that tie in doesn't go anywhere when you head on over to the other pages of my website.
Take a quick peek at the new homepage:
If you haven't checked out my other work (no biggie), my whole approach to content marketing strategy, and explaining it, is inspired by how the entertainment industry—the main creators of pop culture—squeezes every piece of value possible out of a piece of content.
The new website makes that obvious. 😍
From the blog post about Oprah's content repurposing strategy…
To the one about how the writers' room on The Good Place uses content systems…
And the piece about how remixing and repurposing was key to Lil Nas X's strategy for taking Old Town Road viral.
And speaking of music like Lil Nas X or Cardi B…
While the website as a whole is focused on all parts of pop culture and entertainment (I have a blog post in the works about jukebox musicals 😍), the quiz is specifically focused on music.
It tells you which popular music star is using remixing, repurposing, and remastering the same way that you should be, depending on where you are in your content marketing journey.
So have you taken it yet?!
Your quiz results page will be full of advice and tips to get more customers from less content, so read it carefully. 🤓
And once you put the advice into practice, you'll be able to say you market like a pop star. 😎